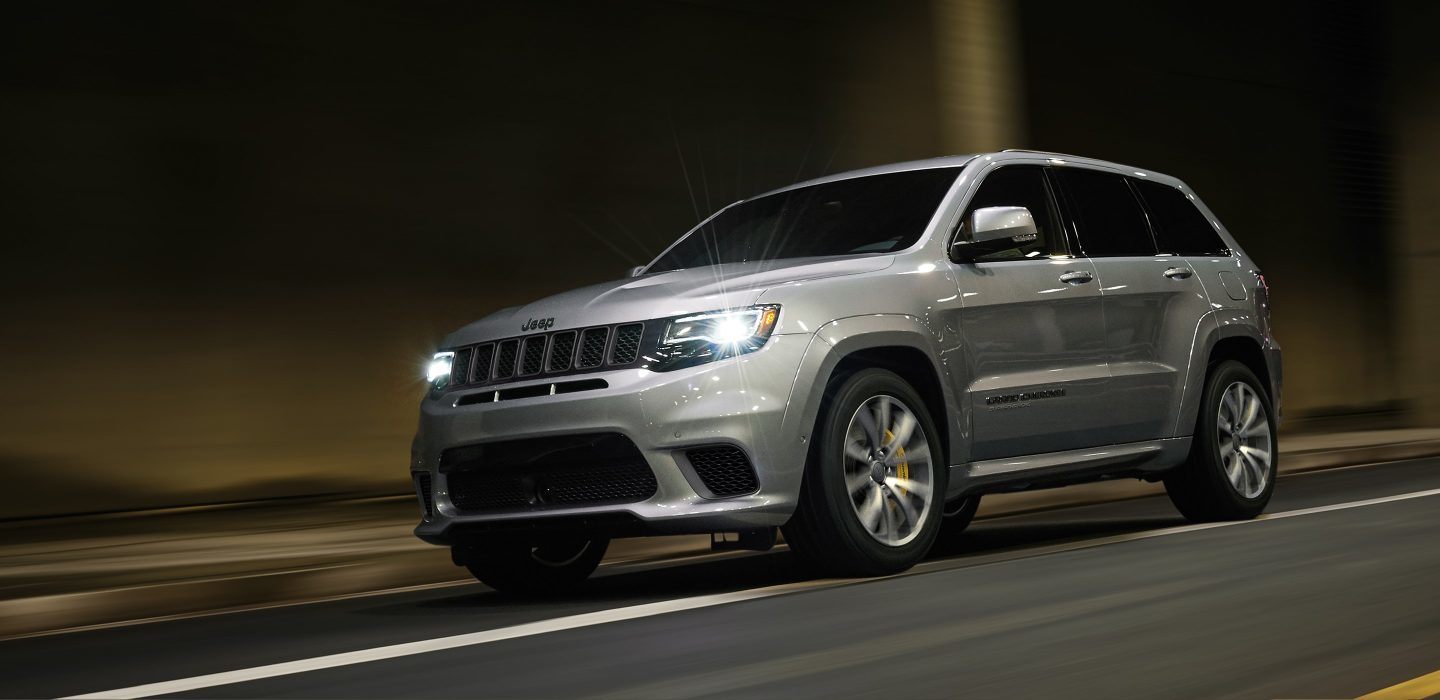 Just when you thought the Jeep brand couldn't get any more exciting! They've introduced the 2018 Jeep Grand Cherokee Trackhawk and it is the most powerful SUV yet. Power isn't the only thing this SUV has going for it. The speed, power, and features all make this ride something unlike what you've ever experienced.
Power Beyond Compare
The high-performance Jeep Grand Cherokee Trackhawk will be at dealers this fall, but you must prepare yourself now for an exhilarating ride. The Trackhawk is the most powerful SUV ever with its supercharged 6.2-liter V8 engine. The Trackhawk delivers an amazing 707 horsepower and 645 lb.-ft. of torque.
The 0-60 mph time is just 3.5 seconds and it also achieves the quarter mile in 11.6 seconds. It should come as no surprise that the Trackhawk features a top speed of 180 miles per hour.
Features Everyone Wants
This astounding SUV is also offering quite a long list of features to check out. From the upgraded TorqueFlite 8 eight-speed automatic transmission to the driveline components have been newly engineered specifically to handle this additional torque output, you can expect quite the ride.
Jeep also offers world-class on-road driving dynamics. Some of these include the five drive-mode Selec-Track® systems and the outstanding Bilstein adaptive damping suspension. Finally, the Jeep features a unique quad-tip exhaust, unlike any other.
Pair that all with the largest-ever front brakes offered on a Jeep vehicle with the new Brembo™ braking system and you'll be stopping just as easily as you can go. This allows the Trackhawk to achieve 60-0 miles per hour braking performance at just 114 feet. In addition, the 20 x 10-inch Titanium-finish wheels are perfect for exposing unique yellow Brembo brake calipers.
Use the Launch Control to coordinate the engine, transmission, driveline and suspension for complete optimization of your launch and power. If entertainment is important to you, be sure to add on a few fun options. Consider the dual-pane panoramic sunroof, the dual-screen rear-seat entertainment center, 19-speaker Harman Kardon® high-performance audio system or maybe a trailer tow package for weekends away.
The time has never been better to check out some high-performance SUVs for sale! At Yark Chrysler Jeep Dodge Ram, we are ready to order your 2018 Jeep Grand Cherokee Trackhawk today. Head on over or give us a call and we can customize the Trackhawk you've been wishing for. Our experienced staff will walk with you every step of the way.